?


Sunday February 13, 2005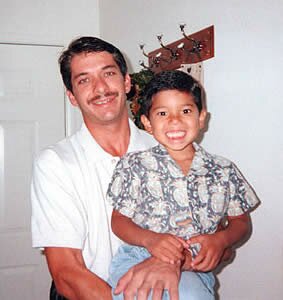 Arthur W. Eseling
#m409

Age : 32
Height : 5'10
Weight : 150 lbs
Color of eyes: Green
Hair : Brown
Children : 7 Year Old Son
Marital Status : Single
Profession: Engineer for Hotel/Casino
Languages: English
Education:
?

My hobbies and interests are many but here are some of them: Ballet; Theater; Some Travel; Music; Movies; Reading; Computers; Gardening; Camping; Hiking; Cuddling; Glass of wine in front of the fireplace while talking to my special lady. I am a man who enjoys the simple things in life and rarely hard to please. My Son is seven years old, and I have raised him for the last 6 years as a Single Parent. I would be supportive if my special lady wishes to further her education or continue her carreer. I am honest and faithful, and find good communication important for a healthy relationship. I have a good sense of humor, respectful and am pretty easy going but can take life seriously when it comes to achieving goals for my family. I am caring, thoughtful, understanding, and very affectionate. I am looking for the ONE special lady who would always be in my thoughts and make my heart burn with the fires of love.

Searching for a Beautiful Lady inside and out with high moral values and mostly conservative. Should have the ability to love my Son as her own as we would prepare for more children. You need to be Honest, Faithful, Loving, Appreciative, Patient, Understanding, Down to Earth and Goal Oriented. Ladies in Age: Up to 35 years old. I am looking forward to hearing from you and will respond to all letters that have photos. E-Mail address will be available after several correspondence letters, and phone numbers some time later.

?
Contact information for Arthur W. Eseling
Arthur W. Eseling
36 Bright Dawn Avenue North Las Vegas, Nevada 89031 USA

?
Click here for the latest site update.
?
Bookmark "Absolute Russian Girls Personal Ads" now, and check back for updates.
IE users click here. ?Netscape users hit CTRL+D to Bookmark.
?
Contact Absolute Russian Girls Personal Ads
EMAIL


copyright 1998-2001 absoluterussiangirls.com


?