?



Monday December 22, 2003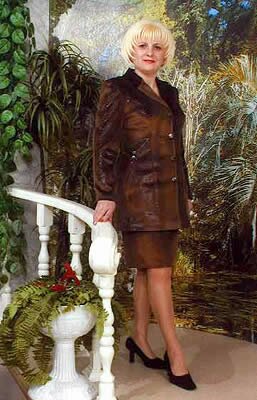 Galina Karmazina
#503

Age : 38
Height : 164 cm
Weight : 63 kg
Color of eyes: Grey-green
Hair : Blonde
Children : Daughter age 18
Marital Status : Divorced
Profession: Chief accountant
Languages: Russian, English, German
Education: Average
?

Hi! My name's Galina. I work as a chief accountant in a trade firm and I am proud of my trade. I like beauty in all: in clothes, in house, in human relations. I'm very tender, close and kind. I very much love my daughter, we have a lot of common interests.

I appreciate interests and sights of the partner. I am able to listen and to understand interculture.

I would like to meet a present man, which can become the chapter of our family. I can present him fidelity, love, happiness.

?
Click here to contact Galina Karmazina
?
?

?
Click here for the latest site update.
?
Bookmark "Absolute Russian Girls Personal Ads" now, and check back for updates.
IE users click here. ?Netscape users hit CTRL+D to Bookmark.
?
Contact Absolute Russian Girls Personal Ads
EMAIL



?
?
copyright 1998-2003 absoluterussiangirls.com