?



Saturday October 26, 2002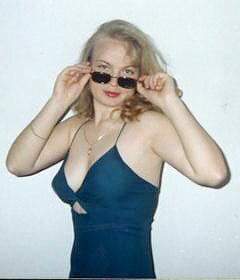 Tatiana Zakharina
#386

Age : 25
Height : 160 cm
Weight : 57 kg
Color of eyes: Green
Hair : Fair
Children : None
Marital Status : Single
Profession: Economist
Languages: Russian, English
Education: University
?

I like travel, cinema, discoteques, music, reading literature. My character is romantic, kind, and gentle.

I am looking for a man for marriage.
His age should be between 27 and 40 years old.
Height 165-190 centimeters.
Kind of person I am looking for: kind, romantic, vigorous, and well educated.

?
Click here to contact Tatiana Zakharina
?
?

?
Click here for the latest site update.
?
Bookmark "Absolute Russian Girls Personal Ads" now, and check back for updates.
IE users click here. ?Netscape users hit CTRL+D to Bookmark.
?
Contact Absolute Russian Girls Personal Ads
EMAIL



?
?
copyright 1998-2002 absoluterussiangirls.com