?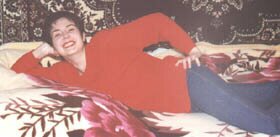 Galina
#274
Age : 24
Height: 5'6", 168 cm
Weight: 126 lbs, 57 kg
Color of eyes: Blue
Hair : Black
Children: No
Marital Status: Divorced
Education: Bachelor's
Religion: Christian
Occupation: Education
Foreign Languages: English fluently
Smoker: No
?

Hello my name is Galina, I speak excellent English and work as a teacher of English in high school in Minsk. I like English and my profession.
I would describe myself as a funny, active and friendly girl with a good sense of humor. I am interested in reading books, music, cinema, and am fond of sports. I enjoy swimming pool and sport gym.
Now I am looking for a sociable and open-minded man for serious relationship and marriage.
?
?
Absolute Russian Girls
Web Search Engine

?

Email Login

Password

New users
sign up!

Free email account at absoluterussiangirls.com
Your [email protected]
?
Bookmark "Absolute Russian Girls" now, and check back for updates.
IE users click here. ?Netscape users hit CTRL+D to Bookmark.
?
Contact Absolute Russian Girls
EMAIL
?

copyright 2000 absoluterussiangirls.com


?

Click here to see Amateur Pages' free pics.